artwork  

2017 
FLOATING LAND - LOST AND FOUND 
COMMISSIONED WORK - VISIBLE INVISIBLE

FLOATING LAND is an interactive, outdoor, interdisciplinary arts festival with an extraordinary program highlighting the Environment.Held over 5 weeks within the Noosa Biosphere, it has been a bi-annual event since 2001.
I was one of 12 commissioned artists for this environmentally themed exhibition in 2017.
The works were made with tape in an ephemeral street art / graffiti art style. I really wanted to engage young people in the work - to invite them into the story of the imprtance of these microscopic plants which provide half our oxygen and are the bottom of the food chain for marine -life as well. The works were imagined to glow in the darlk with bioluminescent tape but due to too much street lightimg in the urban environment this was mimimal and for the documentation I resorted to a headlamp torchlight. I liked how this method had similarities to deep sea probe lights capturing samples of life in their glow.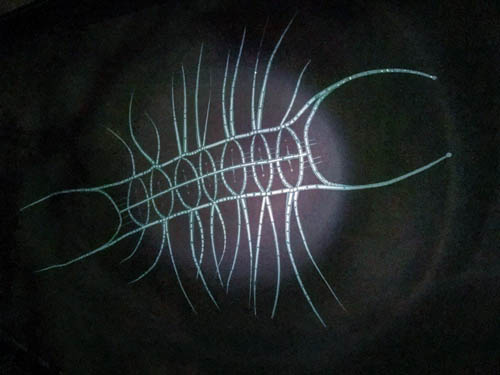 Chaetoceros  Lorenzianus - masking tape and bioluminescent tape 5m x 2.5 m Noosa Regional Gallery outside wall.
more images below