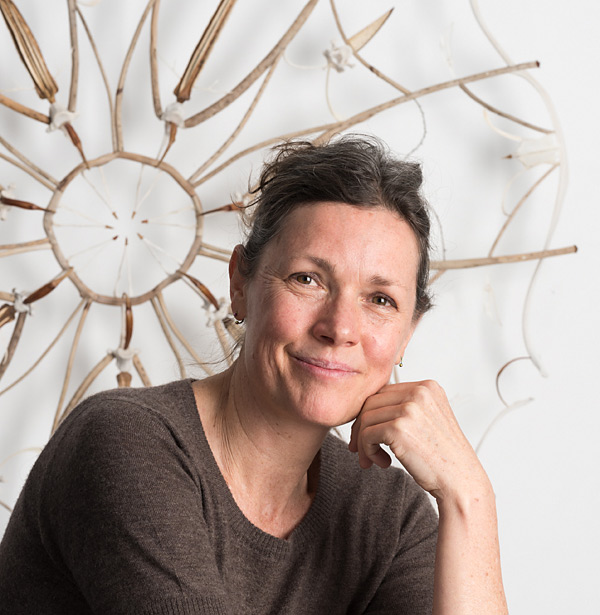 "Her art has a beauty and an ineffable dimension which is distinct from and not imitative of nature. It is the transparent artifice of her assemblages which isolates and re-contextualises each small natural element so that its beauty can be perceived.This effect is sometimes called the heightened reality of art."
Margot Osborne 2010


UPCOMING WORKSHOPS 2022
Sat 29th OCT - BUNSWICK HEADS NSW
COLLABORATIONCS WITH NATURE 1 day Ephemeral Art Worksop with Brunswick Sculpture Nature Walk 
This workshop was postponed last year and will run this year instead.
All bookings and info through BNSW .
Sat/Sun 27/28th AUG  - MULLUMBIMBY/BROKEN HEAD  NSW
COLLABORATIONS WITH NATURE 2 day weekend  Ephemeral Land Art Worksop with Byron School of Art.
All bookings and info through BSA website .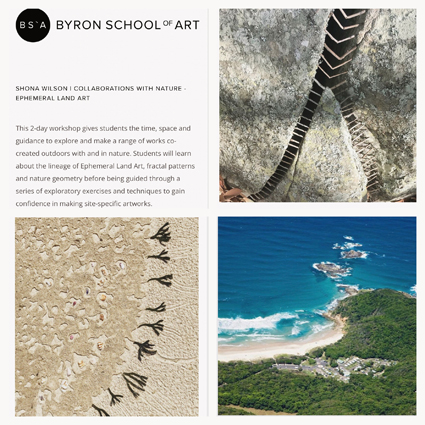 PROJECT 
The Bark People and the Wind - a collaborative storybook project with Rachael Skyring.
Rachael has written a story based on a series of ephemeral artworks I created in 2021.
We will be publishing the book online - more info and images shortly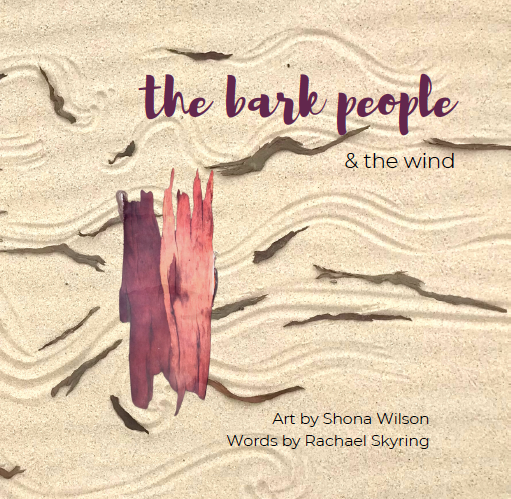 profile
Shona Wilson is a contemporary Australian sculptor, who has engaged with natural found material to create both abstract and representational 
2-D assemblages and 3-D sculptures for over 20 yrs. Shona is the creator of the One A Day Ephemeral Art Project which has inspired people worldwide.
Shona currently lives and works on the NSW mid north coast - Worimi Country - and is represented by Arthouse Gallery in Sydney and Artvisory in Melbourne Australia.

artist's statement
Bridging Art and Nature - Studio | Ephemeral | Workshops
Creating with Nature's overlooked fragments, brings me closer to understanding the world we share. These materials are storehouses of knowledge and information. They act as 'keys', unlocking doors to memory, science, history and imagination. Exploring our world through the myriad of natural found materials collected, observed or arranged in my day-to-day life is a continuing theme and motivation for my art practice. My work is an invitation to marvel and wonder at the details within nature which I present predominantly through sculptural assemblages.The mirroring between the micro/macro world and the human/natural world captivates me, discovering connections and resemblances everywhere. The intersects between art, nature, science and spirit are potent environments to research and play within. Art making can become a ceremony.
In 2014 I created the One A Day Ephemeral Art Project which was delivered online and resulted in a book. I translated my studio based processes of creating work with natural found materials in an intimate scale to a spontaneous and short time frame outdoors, to create a unique Ephemeral Art process.This has become another  tool and method to explore, share and be in the world with mindful curiosity and wonder. This practice directly informs my Collaborations with Nature - Ephemeral Art Workshops.
My engagement with the natural world has led me to realising the disengagement many young people have with Nature. Looking to our future, a question must arise. How can we care for something we do not know? 
NEWS
2022
OCT 22 - I am very honoured and excited that my One A Day Ephemeral Art Project (2014/15) is now included, as one of the case studies, in the just released online NSW government CREATE NSW Public Art Toolkit pg 145/146. It is so wonderful to have this nature-based, small-scale and sensitive work and practice showcased amongst illustrious works and artists . I am deeply grateful to Ashley Collis for her insight and vision to embrace and include my work.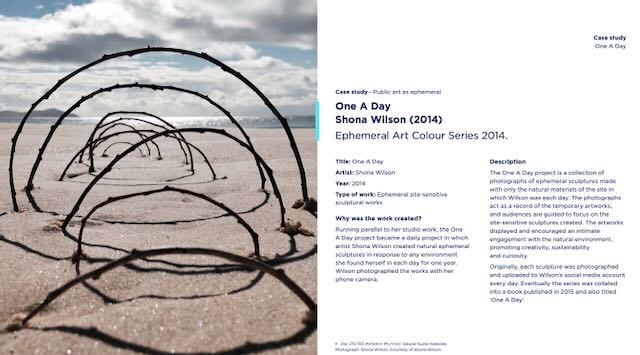 AUG 5 - 28
I am thrilled to be a selected finalist in the Northern Beaches Environmental Art Prize - Open Category  - Works on Paper and Photography section 2022.
The Songstress - Rythmns of Regeneration is created from an image from my ephemeral art practice which was reconstructed and then  collaged with mixed media and paper.This work will be on view at Manly Art Gallery and Museum, Sydney.
A LIMITED EDITION OF 50 PRINTS ARE AVAILABLE of this work - contact shona.collaborationswithnature@gmail.com for details.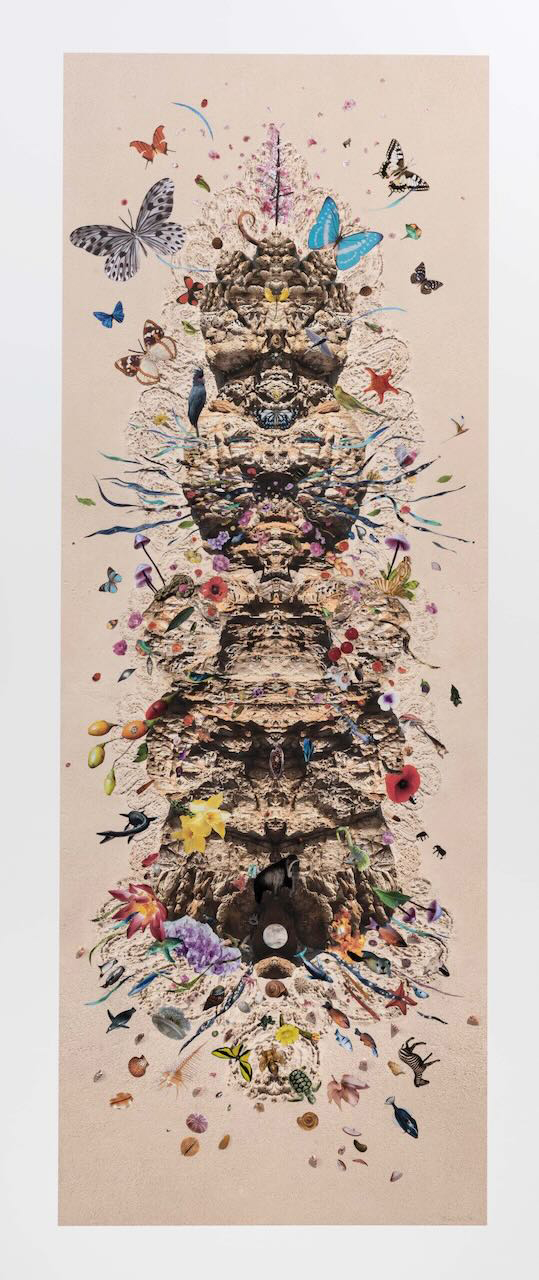 photo : Greg Piper
 AUG 6 - DEC 2022
"ART in NATURE II" at the Museum of Nature of Cantabria, Spain. Curated by SM PRO ART CIRCLE.
 LUNAR ECHO  is included in an exhibition of 40 international artists working with nature and environmental themes.
Full catalogue here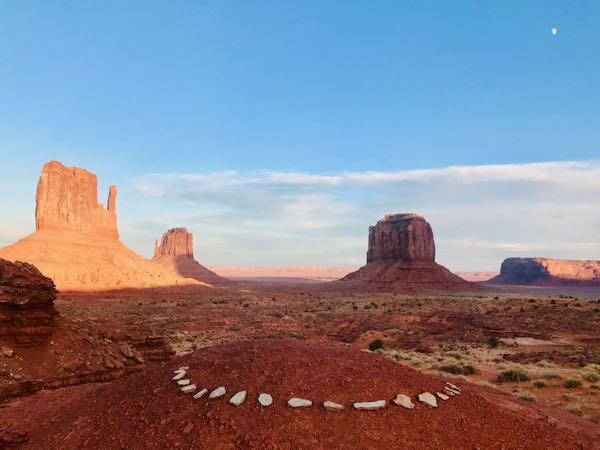 'Lunar Echo' - Monument Valley 2018 - Shona Wilson 
COMMISSION
I am excited to be commissioned to create an artwork from materials collected by a family on the NSW Central Coast, inspired and derived from the ecosystem that surrounds them and natural materials they have found and collected. These will become an assemblage work which relates directly to the family and the place they live and love, a celebration of the natural world around them which is a source of great  joy.
Shimmer  120 x120 x 7 cm 
2021 
withNature2020 collaborating with Manning Regional Gallery, Mid Coast Council, Manning River Turtle Group and 36 schools and community groups. I was honoured to be part of this project and a catalyst for Australia's contribution - The Manning River Helmeted Turtle. We created a large scale 10 x 8m drawing of the turtle on the banks of the Manning River on May 22 with approx 3000 hand woven turtles by children and community groups in our local area. Well done!
This project is included in the United Nations Agenda for People and Nature.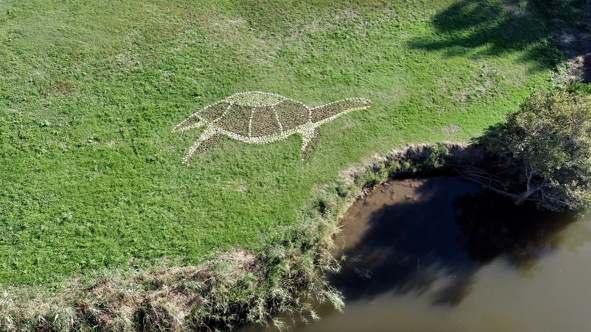 Photo: Nick Day
2020 
Selected group shows in Atlanta USA  - RESONANCE & RESILIENCE 
Works created from my residency at The Hambidge Center for Creative Arts & Sciences were included in 2 exhibitions Resonance and Resilience curated by Shannon Morris and Pandra Williams in Atlanta. Both installations What Was, What Is, What May Be and Fallen spoke to and about the state of the natural world, beauty which belies destruction, and hope for our common future. 
2018 
Feature in COLOSSAL