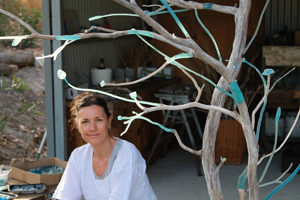 "Her art has a beauty and an ineffable dimension which is distinct from and not imitative of nature. It is the transparent artifice of her assemblages which isolates and re-contextualises each small natural element so that its beauty can be perceived.This effect is sometimes called the heightened reality of art."
Margot Osborne 2010


WORKSHOPS 

 COLLABORATIONS WITH NATURE   
2016
 
 OCT   29            CAMDEN - SYDNEY - GLENMORE HOUSE  
 
JULY  2017      BALLARAT - VICTORIA - Winter Fibre Arts (5 day retreat)             
Please go to upcoming workshops for all information.
profile
Shona Wilson is a contemporary Australian sculptor, who has engaged with natural found material to create both abstract and representational, 2-D assemblages and 3-D sculptures for over 20 yrs. Shona is the creator of the One A Day Ephemeral Art Project which has inspired people worldwide.
Shona currently lives and works on the NSW mid north coast and is represented by Arthouse Gallery in Sydney and Mossgreen Gallery in Melbourne - Australia.

artist's statement
The repetitive use of Nature's detritus brings me closer to understanding the world we share. The materials themselves are storehouses of knowledge and information. They act as 'keys', unlocking doors to memory, science, history and imagination.
Exploring our existence through the myriad of natural found materials collected in my day to day life and travels is a continuing theme and motivation for my art practice. For the past 20 years my work has been an invitation to marvel and wonder at the details within nature which I have presented predominantly through sculptural assemblages.
In 2014 I created the online  One A Day Ephemeral Art Project. This employed my intimate scale,short time frame, nature based Ephemeral Art formula as a tool and method to explore, share and be in the world with mindful curiosity and appreciation. This directly informs my facilitation work with Ephemeral Art Workshops. Inviting and encouraging direct engagement with the natural environment and providing a space for playful creativity and mindfullness to occur, is a potent and tangible experience which enables meaningful and useful changes in perceptions and interactions with oneself and the environment. I have recently enjoyed working with adults, high schools and pre-schools. 


news    
Listen in here to find out more about Human/Animal/Artist with co-curator Janine Burke on ABC Radio National 
View the catalogue for my recent solo show OFFERING  at ARTHOUSE GALLERY - Sydney here 
On -line Interview with Imprint House - behind the scenes + daily practice
Very excited to be part of KURINGAI PH  an  ART+SCIENCE + NATURE  collaboration for 2016 - - resulting exhibition at Manly Regional Gallery and Museum. A remarkable set of scientists and artists engage with the remarkable Kuringai Chase National Park. Envisioned and co -curated by Eramboo Artist Environment - Susan Milne) and Manly Regional Art Gallery ( Katherine Roberts) and supported by National Parks and Wildlife and Pittwater Council. It is already amazing!
upcoming exhibitions / events
NOV 20 2016 -18 MAR 2017       McCLELLAND SCULPTURE GALLERY - Human/Animal/Artist - Group Show curated by Janine Burke and Penny Teale
DEC 9 2016 - FEB 19 2017            MANLY REGIONAL ART GALLERY AND MUSEUM - Sydney - Kuringai PH  - Group Show 
JUNE 4 - JULY 23 2017                     Woven in Winter - STURT GALLERY - Group show 
JUL 5-11 2017                                       FIBRE ARTS WINTER SCHOOL - 5 day immersive workshop - Ballarat VIC
MAY  2017                                               'SOUNDSCAPES' -Qurindi Preschool - rural NSW -  ephemeral art  and sound project - funded by Arts Northwest.