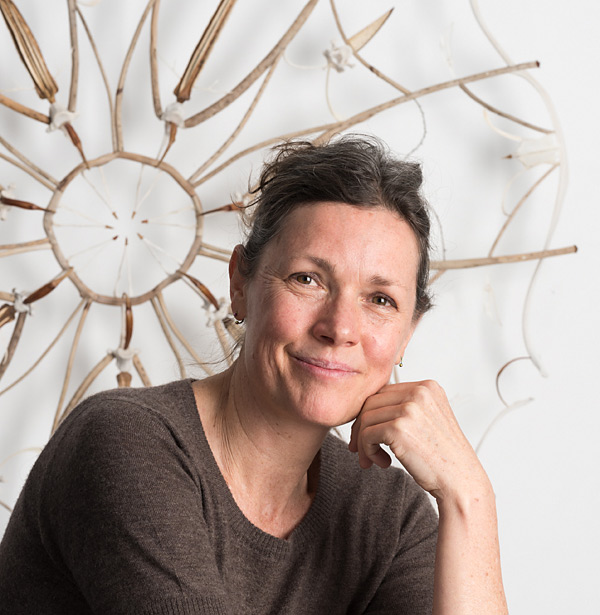 "Her art has a beauty and an ineffable dimension which is distinct from and not imitative of nature. It is the transparent artifice of her assemblages which isolates and re-contextualises each small natural element so that its beauty can be perceived.This effect is sometimes called the heightened reality of art."
Margot Osborne 2010


profile
Shona Wilson is a contemporary Australian sculptor, who has engaged with natural found material to create both abstract and representational 
2-D assemblages and 3-D sculptures for over 20 yrs. Shona is the creator of the One A Day Ephemeral Art Project which has inspired people worldwide.
Shona currently lives and works on the NSW mid north coast and is represented by Arthouse Gallery, Sydney Australia.

artist's statement
How can we care for what we do not know?
The repetitive use of Nature's overlooked fragments, brings me closer to understanding the world we share. The materials themselves are storehouses of knowledge and information. They act as 'keys', unlocking doors to memory, science, history and imagination. The intersects between nature, science, spirit, and art are potent environments to research and play within creatively. Art making can become Ceremony.
Exploring our world through the myriad of natural found materials collected in my day-to-day life is a continuing theme and motivation for my art practice. My work is an invitation to marvel and wonder at the details within nature which I have presented predominantly through sculptural assemblages. The mirroring of the micro/macro world and its phenomenology captivates my whole being.
In 2014 I created the One A Day Ephemeral Art Project which was delivered online and resulted in a book. I employed my intimate scale, short time frame, nature based Ephemeral Art formula as a tool and method to explore, share and be in the world with mindful curiosity and wonder. This practice directly informs my facilitation work with Ephemeral Art Workshops. Inviting and encouraging direct engagement with the natural environment, and it's materials, as a space for playful creativity and mindfulness to occur, offers a potent and tangible experience which enables meaningful and useful changes in perceptions and interactions within and between oneself and our environment. I have recently enjoyed working with adults, high schools and pre-schools. 
exciting news! - 15th March featured on COLOSSAL 
upcoming events 2018 
SEPT 28TH - BRUNSWICK NATURE SCULPTURE WALK - associated event COLLABORATIONS WITH NATURE workshop 
NOV 13-15            LORNE - VICTORIA - 3 -DAY immersive COLLABORATIONS WITH NATURE  workshop at Qdos Arts  - bookings wil be through Qdos Arts.            

COLLABORATIONS  WITH  NATURE  WORKSHOPS  2018
SEPT 3-15     JAPAN IMMERSIVE - SADO ISLAND  hosted with and bookings through  Cilla Campbell Art Tours 
SEPT 27 +30       BRUNSWICK HEADS NSW - an associated workshop event with BRUNSWICK NATURE SCULPTURE WALK  - all bookings here
OCT 12                   NORTH HEAD MANLY -  info and book here

NOV 2                     SYDNEY HARBOUR FORESHORE  hosted with  Cilla Campbell Art Tours  -  info and book here
NOV 13-15          LORNE - VICTORIA - 3 -DAY immersive at Qdos Arts  -  info and book here
Please go to when + where for more information.