A WALK ON THE WILD SIDE
mid year update  - the classroom outdoors explores the bush
'I couldn't believe how the children responded to the natural environment.
 I am super excited about going again. Thank you for making the preschool such a
wonderful place and environment for our children to learn and grow ...' Melindah Morgan - parent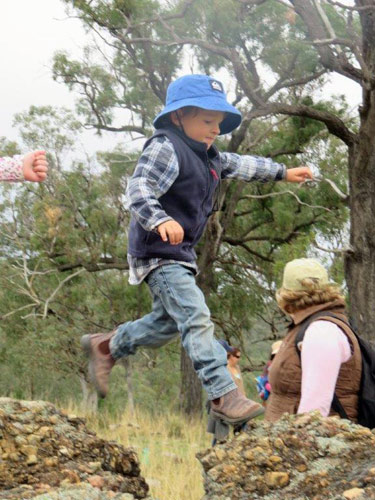 Since my initial workshop with teachers and parents back in Febuary, Quirindi preschool has undertaken to take a

series of excursions into the surrounding bush environment to begin implementing and attuning themselves and the

children to being, playing, learning and creating immersed in nature. This particular field day's theme was 
patterns.
 
The following images and paraphrased text were sent to me by Alison Thompson the director at Qurindi Preschool.
A Walk on the Wild Side!
 by Charmain Frith (parent committee president) for the school newsletter
" Wow, what a different preschool excursion!! Excitement was mounting amongst our little friends

are we drove past Quipolly Dam,and the bus bumped to a stop in the Quayle's paddock....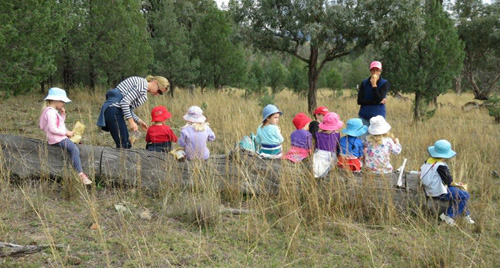 "Let's go!" someone shouted, so we forged on through the long grass,

before finding a toppled over gum tree which was fantastic for balancing on...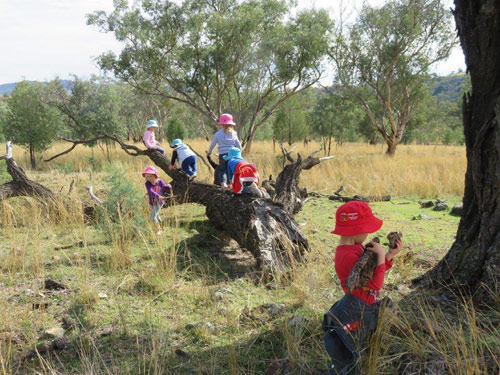 ...the children broke into little groups. We had some girls enjoying imaginative and cooperative play

making a campfire and toasting a few "marsh-mallows", one of the boys was busily drilling a bore,

a little group was drawing with pastels, and some of the boys were doing what boys do best,

exploring with Kel and checking out some more trees....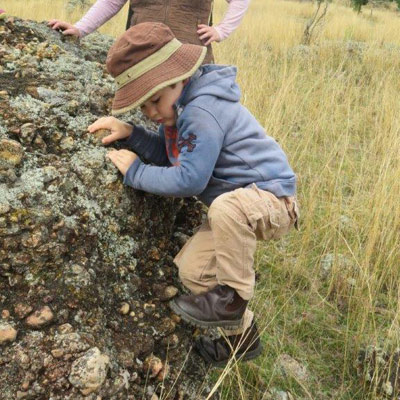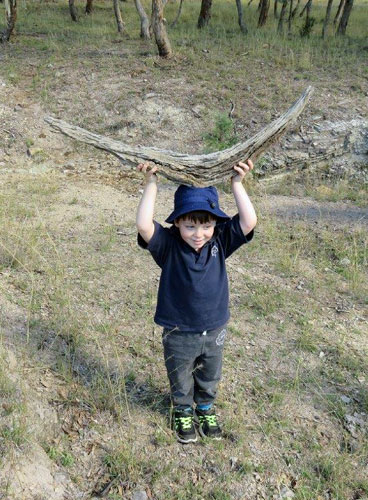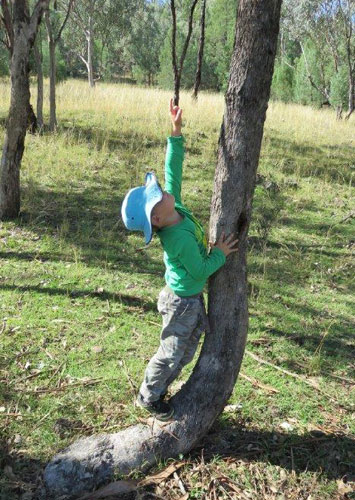 "I am a big Bull"                                                 "This could be a Foot Tree and it legs go all the way up here"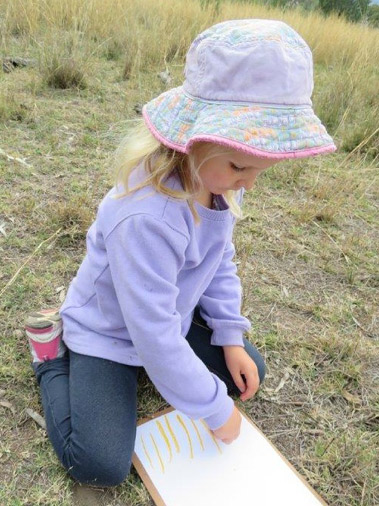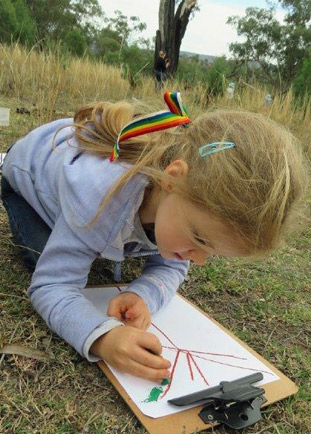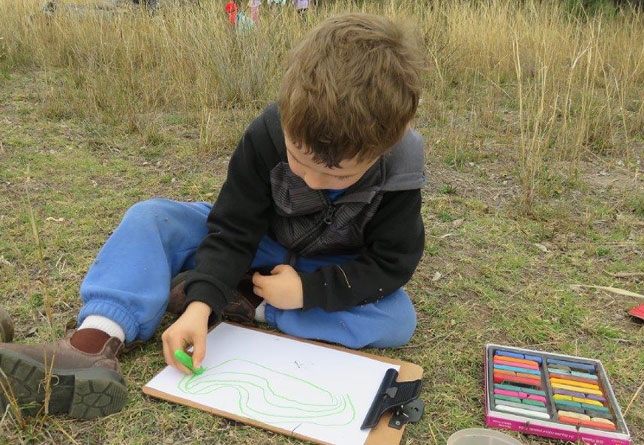 We started making a pattern with some bigger pieces of wood.

It gradually became a windmill, and we had to co-operate and help each other out,carrying wood

and deciding how our pattern should grow. It was great fun; sharing our ideas, chatting and working hard to complete it!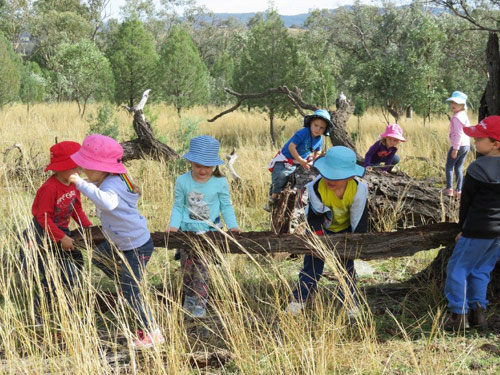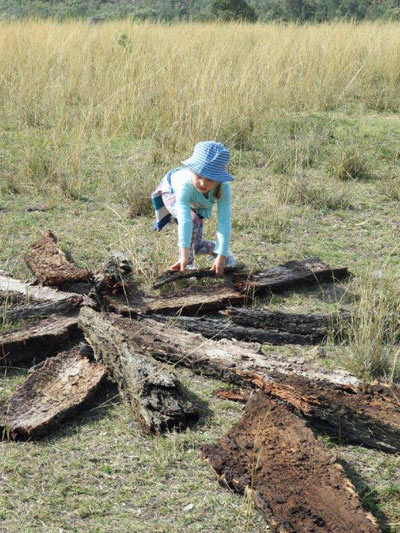 Check out our finished product,... how awesome does it look!!!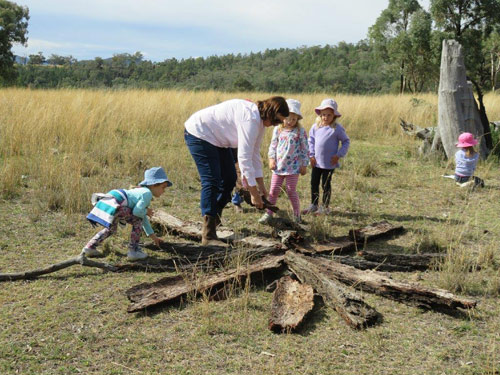 But wow, look at the time! We must head back to the bus, we wouldn't want to get left behind!

Let's go team, don't forget your treasures that you have collected along the way…

Bones aplenty, sticks, rocks, bark...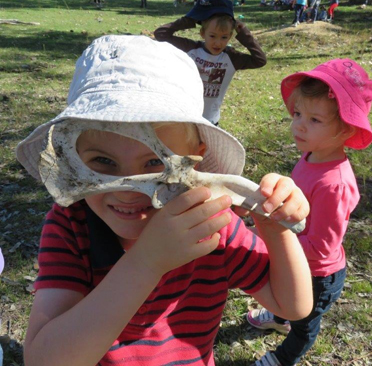 "It's a dinosaur eye bone"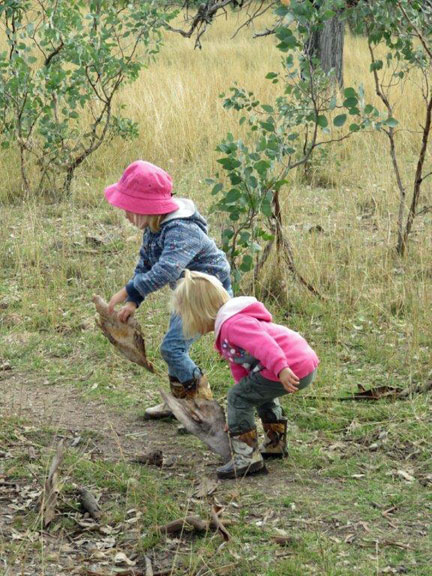 What an amazing morning of exploration and learning, physical activity and challenges in the fresh air.

And how lucky are we as parents to be able to share these special experiences and adventures with our children?

Not every child is this lucky, and we must be thankful that at Quirindi Preschool they are given this wonderful opportunity

to learn amongst nature. Thank you ..
 
Have YOU visited the wild side yet???!! "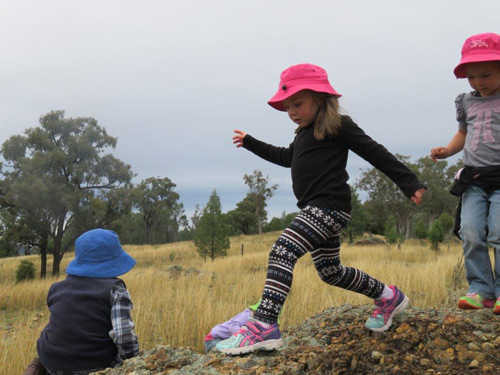 In response to 'THE CLASSROOM OUTDOORS' blog post in Feb 2015 - I recieved this wonderful , articulate and 

supportive response from  Warren A Reilly - Industrial Designer/Lecturer Newcastle University NSW - THANKS Warren!
 
"It appears (to me anyway) that an understanding of nature at an early age is a powerful tool. It not only

introduces the concept of a 'system' in which all elements contribute to the whole, it also gives context to their 
own lives.
 
This idea of 'connectedness' becomes a backdrop for their lives as they develop their understanding of the world.
That all things are connected, that 'problems' are not just local they are much broader, that their value is
building the strength of the system that supports them...etc
 
 It is no coincidence that the technology race is now looking to the Biosphere for guidance in the 21st Century.
Independent of our own individual beliefs, the living system is a library of more than 30 million well resolved
'solutions' to 'problems'. The truly incredible aspect is that the living system is entirely sustainable on all
levels - there is no waste.
 
For a child to grow up with an understanding of reality in a way that releases their potential to be whatever they
want, and yet is absolutely consistent and reliable in its structure and content, at all ages of their lives, is the
greatest gift we can give the next generation - surely."
and
Alison Thompson (director of Quirindi preschool)has noted these reponses and observations from just a handful of
wild excursions with her young charges.
"Our walks have been fabulous. The children are noticing so many more things. They are becoming conditioned to
walking distances and climbing. The children's creativity at preschool with natural materials that we have
collected  and our preschools natural environmental materials are been used creatively and  been used with purpose.
Relationships and communication are strengthening between the children. We have a few families who have been very
cautious about our adventures, which is to be expected."
I am so looking forward to spending a week with these little souls

and their inspired teachers in September, when we

will  create 
artworks with  natural found materials and photograph them

for a local

Blackville Art Exhibition

 in October this year !!
The rest of your blog in this fields