the ground on which we play
THE  PLAY  GROUNDS  of  Quirindi  Preschool  Kindergarten 2015
DECIDED TO START WITH THE THANK YOU'S FIRST !
SO THAT THE PEOPLE WHO MADE THIS ALL HAPPEN  DONT END UP AT THE BOTTOM OF A LONG BLOG AND NOT GET SEEN.
 
A HUGE THANK YOU TO EVERYONE INVOLVED THUS FAR IN THIS PROJECT
 the preschool committee (Charmaine Frith particularly) and community of parents and beyond 
and 
 IN PARTICULAR THE IMMENSELY DEDICATED TEAM OF EDUCATORS AT QUIRINDI PRESCHOOL KINDERGARTEN
 Jill Barber
Kellie Slade
Tina Tickle 
Shaz Harris
Karen O'Brien
Kaitlyn Graham
Kirra Sevil
Murine Sepa
Alison Thompson
 for their
 WELCOMING ATTITUDE TO ME AND THE PROJECT
 OPENNESS TO NEW IDEAS
 ABILITY TO ABSORB, IMPLEMENT and NURTURE CHANGE
 WILLINGNESS TO GROW AND CHALLENGE 
 and most importantly
 FRIENDLINESS, CARE AND LOVE FOR THE CHILDREN THEY GUIDE AND FOR EACH OTHER 
 without your enthusiasm we would not have done this....
The culmination of this year's COLLABORATIONS WITH NATURE WITH CHILDREN saw me head out to Quirindi
for a week intensive of bush excursions with children,educators and parents from this dynamic
community based preschool
and 
the subsequent exhibition of created works and images at the annual and local BLACKVILLE ART SHOW !

BUT to see where all of this creativity was generated we must back track to 
THE BUSH - the natural environment.
 
You must install Adobe Flash to view this content.
This is a video collage A SNAPSHOT OF OUR TIME IN NATURE was compiled and edited from that week
 by one of the preschool's multi-talented educators Kaitlyn Graham.
Quirindi preschool is among a number of early childhood centres to embrace the idea of outdoor play
and education for sustainability as an important part of the curriculum. Through the project
the preschool has also engaged with the wider community linking with  outdoor play groups
such as NSW Early Childhood Environmental Education Network ( ECEEN).
(Lucy Donoghue - parent + journalist)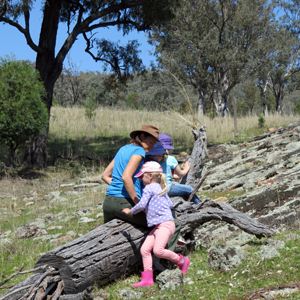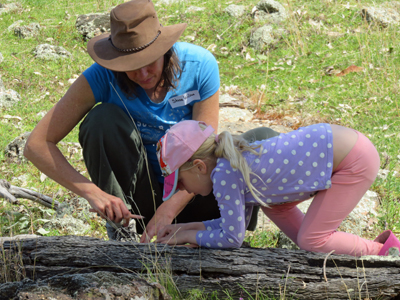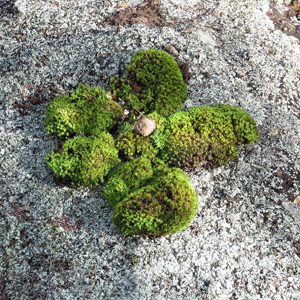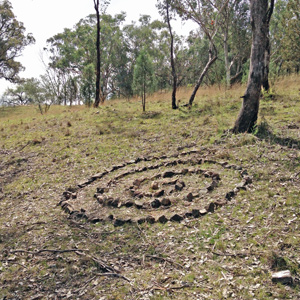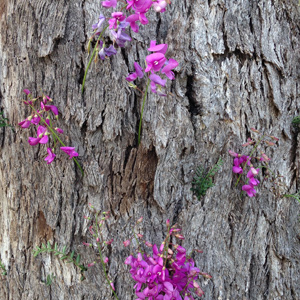 ..exploring, discovering and creating doesn't begin and end in the bush however-
it transfers back and forward between the preschool learning environment and the bush environments..
 
treasures collected ...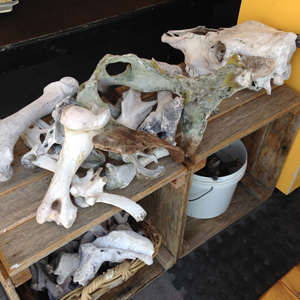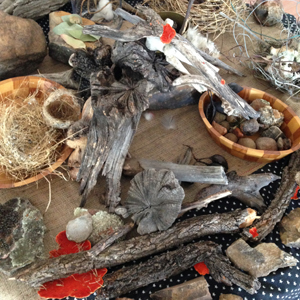 interesting finds investigated ...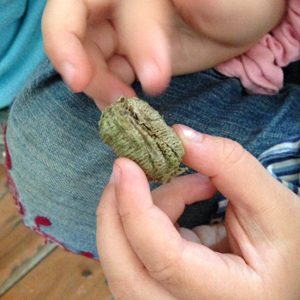 a 'green foam ball' turned out to be ?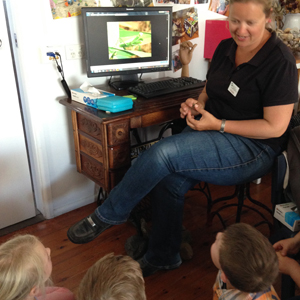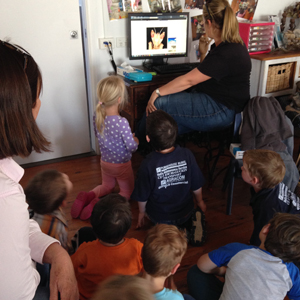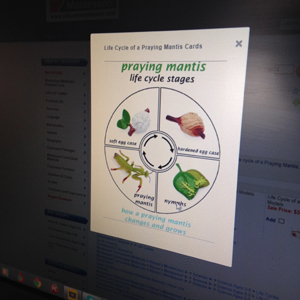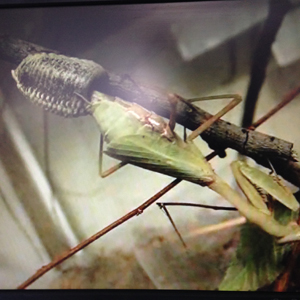 a praying mantis' egg carapace - from which 100's of babies emerge!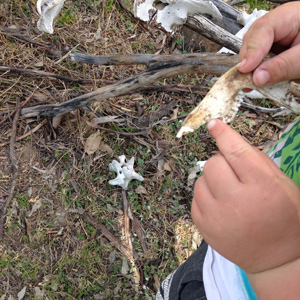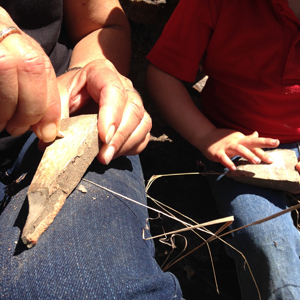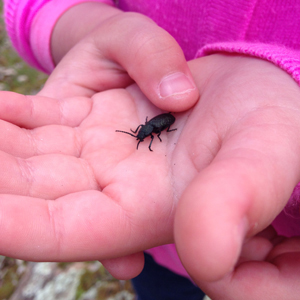 the preschool environment is similarly a 'total' learning and creative space..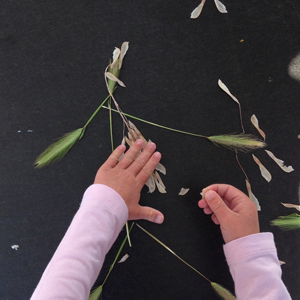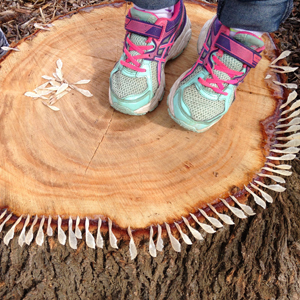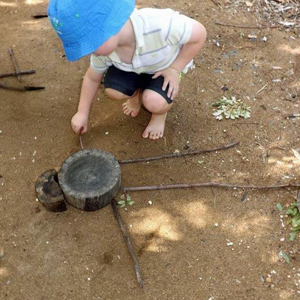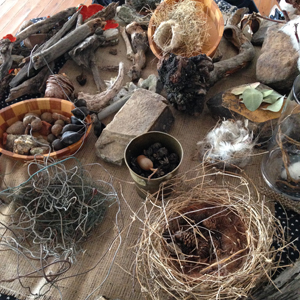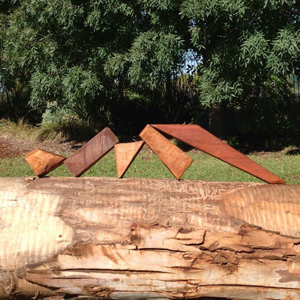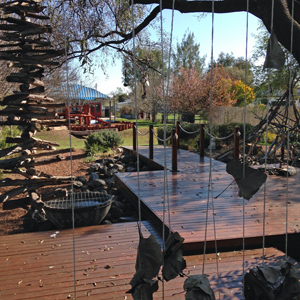 ALL this creativity was encapsulated to be shared and displayed
at the 20th ANNUAL BLACKVILLE ARTSHOW !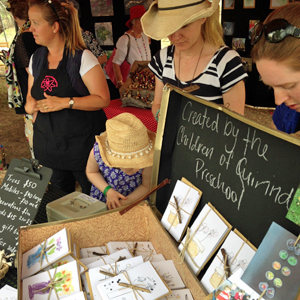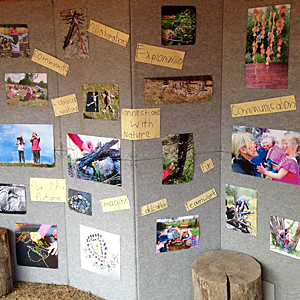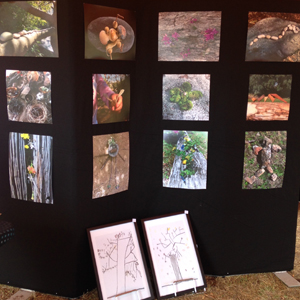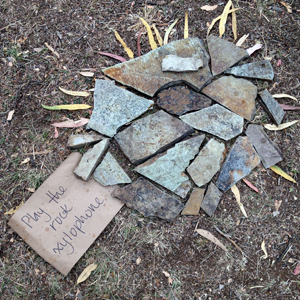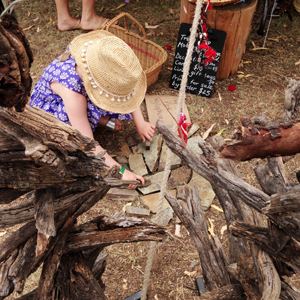 The preschool's director Alison Thompson says "the successful project quickly evolved from teaching children

about sustainability into a new style of outdoor learning which offers a range of social, emotional, educational
and health benefits.
Our philosophy is to foster children to be aware of the environment they live in.
These need to be able to betransposed to any environment : city, metropolitan, rural and remote. "
ALSO 
During this immersive week
Dr Sue Elliott
 (School of Education at University of New England) and 
Caroline Downer ( Executive Officer & Regional Arts Development Office) visited the preschool with Sue joining
a bush excursion also. It was fabulous to have Sue's input from early childhood and sustainability pedagogies
and Carloine's art and community perspective and their support for this project and it's ongoing developments. 
Some possiblities for further exploring ephemeral artmaking within natural/urban environments are taking it into
a gallery setting with possible links to reqional galleries/communities via this partnering.
Sue Elliott generously forward some recources to me that you may like to look at yourselves for further insights,
inspirations and meaning for projects and programmes of this 'Nature'-(pun intended).
thank you very much Sue!
  http://earlychildhoodoutdoorlearning.weebly.com/
 http://www.abc.net.au/catalyst/stories/4099330.htm
References for young children's art include:
 Rapunzel's Supermarket: All about Young Children and Their Art
   It's Not a Bird Yet: The Drama of Drawing
- By Ursula Kolbe  
 Children's Imagination: Creativity Under Our Nose
- By Susan Wright 
 Understanding Creativity in Early Childhood: Meaning-Making and Children's Drawing
 Turning Trash into Treasure for Young Children
- By Adam Buckingham
References for young children and nature include:
 Davis, J. (Ed.) (2015). Young children and the environment: Early education for sustainability 
(2nd ed.). Port Melbourne,Vic: Cambridge University Press.
 Kellert, S. R. (2012). Birthright: People and nature in the modern world. New Haven: Yale University Press.
 Knight, S. (2013). International perspectives on forest school: Natural places to play and learn. London: Sage Publications.
 Taylor, A. (2013). Reconfiguring the natures of childhood. London: Routledge.
Some links of relevance are:
 http://earlychildhoodoutdoorlearning.weebly.com/
 https://www.reggioaustralia.org.au/
 http://elc.unimelb.edu.au/